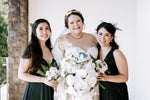 Narrated by the bride ~ Serena Antonia Lamb
When it came to planning our wedding, our hearts were set on paying homage to the breathtaking beauty of Borneo's pristine forests and its unique flora and fauna. We envisioned a colour palette that would echo the deep greens of the lush foliage and the delicate creams of moth orchid petals. With subtle touches of blush pink and dove grey, we aimed to capture the essence of a misty Mount Kinabalu sunrise.
Both my husband and I share a deep passion for supporting local artisans and crafts, therefore, our wedding planning included sourcing as many items as possible from Malaysian vendors and artists.
Our journey led us to explore various aspects of our celebration. We started by custom-designing our invitations with the help of a local artist, @kertaspapel. These beautifully crafted invitations incorporated elements of traditional dress, including a batik shirt and kebaya, along with depictions of local flora and fauna. 
With our invitations reflecting our values and our appreciation for the cultural richness of Malaysia, we were inspired to continue this theme throughout our wedding. We decided to look for a batik artist who could create custom shirts for the groomsmen and some family members. That's when we stumbled upon Suria Artisan Batik on Instagram, and we were drawn in by the organic shapes, delicateness, and sense of movement in Intan's work.
Eager to bring our vision to life, I reached out to Intan with the idea of designing deep green shirts featuring a Nepenthes design. To our delight, Intan readily agreed to take on the project. What followed was a creative process that exceeded our expectations. Intan crafted a design inspired by Nepenthes Mirabilis, a Bornean species, drawing inspiration from vintage botanical illustrations. The result was nothing short of perfect.
The design not only captured the vintage vibe we had envisioned but also held deep personal significance. My grandmother, a talented botanical illustrator, had a fondness for Nepenthes and often painted them. This choice allowed us to pay homage not only to her but also to my parents, who are botanists and horticulturists with a longstanding passion for studying Nepenthes.
The shirts that Intan created were a true testament to her artistic talent and attention to detail. They turned out even better than I had imagined and complemented our wedding theme. Intan's skills didn't stop at shirts; she also crafted a tie and pocket square for my husband, bringing everything together beautifully.
On our wedding day, we received countless compliments about the unique and striking design of the shirts. Equally important, those who wore them couldn't stop raving about the cool and comfortable cotton-silk blend fabric. It was a true testament to Intan's craftsmanship and her ability to create not only visually stunning pieces but also functional and wearable art.
I cannot express how pleased and grateful we are that we chose to work with Suria Artisan Batik. Intan was an absolute joy to collaborate with. Her passion for her craft shone through at every stage of the process, from design conceptualisation to the final product. We look forward to future collaborations with Intan on more special pieces.
In the end, our wedding was a beautiful celebration of love, culture, and local artistry. Thanks to Intan and Suria Artisan Batik, we were able to infuse our special day with meaningful touches that truly made it one of a kind.